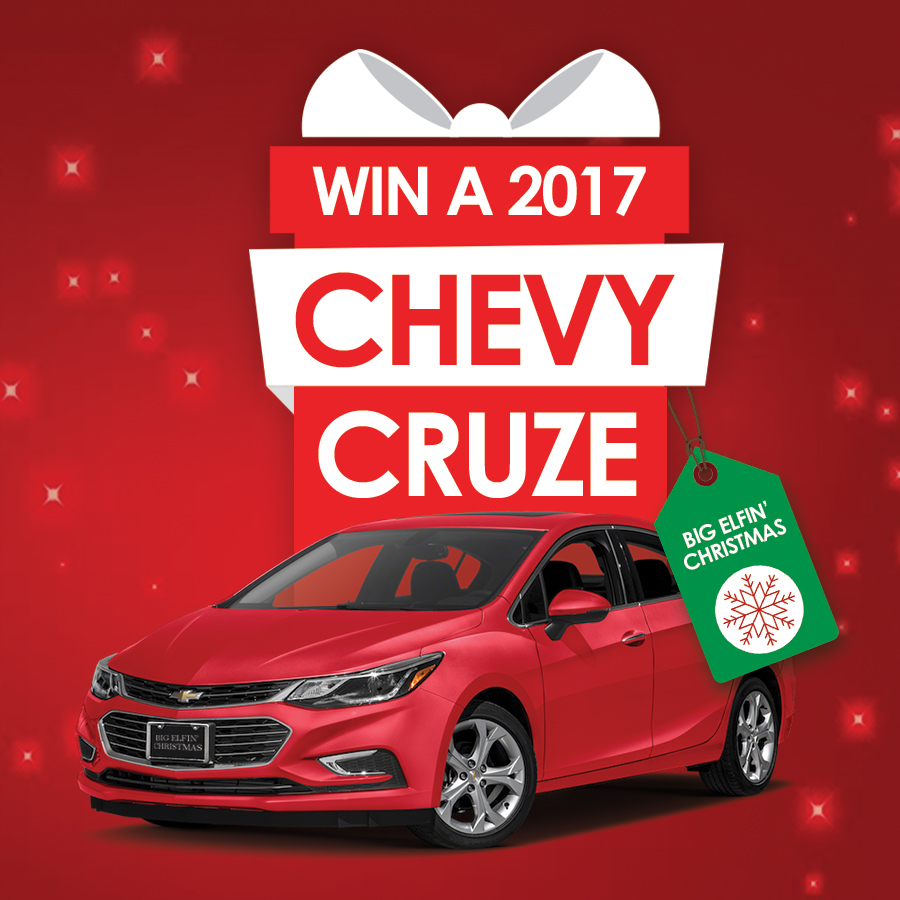 You better make more room under the Christmas tree.
Kmix 1069 along with Yodies Frozen Goodness is giving away a BRAND NEW 2017 Chevy Cruze (MSRP $25,365). This is a guaranteed promotion – someone will win this car! Kmix 1069 will pay for the doc fees and taxes. We'll even top off the tank. All you need to do is participate and have a valid driver's licence and proof of insurance.
Ok, so here's the skinny on how to win.
From 11/27-12/15 sign up at Yodies Frozen Goodness, Hardees, Miller's Discount Tobacco, Southern Style Family Dining, Save A Lot, Wells Variety, Cricket Wireless, or Maggie Diner. We will select finalists from these sign up locations during the morning show. We will also broadcast live from these locations and select finalists.
We will have additional prizing that we will giveaway during the contest during live broadcasts including gift cards, vacation getaways, and cold hard cash.
On Saturday, December 16 meet us at Wetzel Chevy in Richmond when all of our finalists along with a few people selected from the crowd will have a chance to drive off in a new 2017 Chevy Cruze.
Learn more by texting 765-939-1013 with keyword "Car"

*All Chevy Cruze photos are promotional photos from http://www.chevrolet.com/ and do not represent actual prize vehicle.
Winner must have valid driver's license and proof of insurance.
All Whitewater Broadcasting Rules Apply.
One one sign up per person per location per day.
All Chevy Cruze photos used in the promotion do not represent the actual prize vehicle.